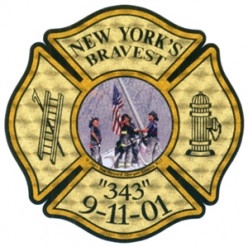 APPAULING!!! I could use a lot of different words, but will settle for that one. So let's understand, a genius in congress tacked on an amendment to the James Zadroga 9/11 Health and Compensation Act of 2010 (H.R. 847), called the Zadroga Act or Zadroga Bill. The amendment requires that ALL the heroes of 9/11 must submit that their names, places of birth, addresses, government ID numbers and other personal data must be run through the FBI's terrorism watch list. Any of the responders who are not compared to the database of suspected terrorists would be barred from getting treatment for the numerous, worsening ailments that the James Zadroga 9/11 Health and Compensation Law was passed to address. Rep Cliff Stearns (Fla), WHAT WERE YOU THINKING OF? This is absurd .It's silly. It's stupid. It's asinine. It's comical at best, and it's an insult to everyone who worked on The Pile and is sick and suffering from 9/11.

Why is the bill important? At the World Trade Center site, the massive cloud of dust created by the collapse of the Twin Towers contained toxins including asbestos, mercury, lead, silica and polyvinyl chloride. While the full extent of the health consequences of exposure to the WTC dust is unknown, potential health effects include Obstructive Airway Diseases such as chronic bronchitis and emphysema or Obstructive Lung Defects such as Reactive Airways Dysfunction Syndrome (RADS), occupational asthma (WTC Cough), Sarcoidosis, Silicosis and Asbestosis. Various cancers including Mesothelioma may also develop from exposure to these toxins. To date over 1,000 people have died from the effects of the 9/11 dust. When enacted, the Zadroga Act will provide $4.3 billion in funding, establishes the World Trade Center Health Program to monitor and provide medical care to people who develop health conditions caused by 9/11 toxic exposure, orders research of 9/11 related diseases. This law was passed in December 2010 and will go into effect in July 2011.

As with Obama care this continues to show that the current administration wants to control all health care issues. This amendment must be repealed before July 2011.

So if we allow this to occur, where will this end. Will the men and women of our armed forces have to submit their names before their wounds or rehab be covered; will all the responders and clean up personal from the BP disaster in the Gulf have to submit their name to be searched before receiving health care; will someone in a car accident need to submit their name; how about Americans who suffer losses from nature like flooding, earthquakes, forest fires, hurricanes have to submit their name before the government helps them? We do not ask criminals or illegal immigrants to submit their names to the FBI terrorism watch list. So why would Congress and President Obama who signed it into law make our heroes do this? We are better people than this.