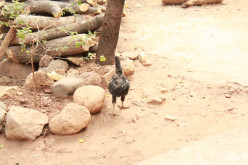 Smiles are contagious. You could make someone's day one thousand times better by just smiling at them on the street. What if you could fix poverty with smiles, or so to speak. Bare with me, Guatemala is poverty stricken but does anyone know the real reason why?
It may have started with Joseph Arbenz. He was the man in the great history of Guatemala that wanted to unite the people, Mayans and Guatemaltecos, for a greater cause. However, the task was that too great for any man to accomplish, especially if a very large and relatively powerful country, such as the United States (and that is who it was) to get in the way. The United States claimed that what Mr. Arbenz was doing and his goal was "Communism." The United States essentially gave the power to the government in Guatemala (which was corrupt as it still is today) to do everything to stop what Mr. Arbenz was doing.
Later, the United States did PUBLICALLY apologize for what they had done, but is it really the United State's fault for the poverty that is still hovering over that small country? Did the US get in the way of the only man that could have freed the people from chains of dust? How many other Latin American men could accomplish what Mr. Arbenz was going to accomplish?
If you go to Guatemala, in some parts of the country people will hate you only because you are "gringo." It is not a joke, the term is racist to us. The hatred may truely come from the fact that we as United States citizens, and our government did to them as a country. They could be united and have looked poverty in the eye already and said, "Gracias a Dios, nuestra gente ya ganaron." Ane the fight would be over.

I went there and I looked poverty in the eyes, in the children's eyes.
On my way back I was sitting next to a man in the US Army who did Optical work for the children there. I tried to tell him how incredibly lucky he was to be able to have pictures of children he didn't know and to get as close to them as he did. I told him about Mr. Arbenz and all he said to me was, "Well, I'm sure there will be plenty more 'Arbenz's' to come." I wanted to throw up on him. He is just like every other man from a military unit the US I have met. They really have no idea and they always think they know better. He would not have a job if the First Arbenz had succeeded.

Now to my point with the smiles, the children are the future of countries like Guatemala. They are the ones who can change and make the difference. However, first they need an education. Right now, in Chiquimula, Guatemala; students are protesting the government's new law for students to attend school for three years instead of just two to be teachers. The student are literally shutting down the schools, I have seen this with my own eyes, and having demonstrations/gatherings in the streets and blocking them.
How on earth are the students even allowed to be doing this? Why do they have so much power? They should all have their bodies in a desk/chair in school listening and learning, because they are wasting time, and by time I mean WEEKS, that they could be cutting off of the total amount of time they have to be in school.
The smaller children, are lucky to go to school. Those are the children that will change the country. They are small, dirty, and scared. They look like they are being watched and if they make a wrong move, they will be killed. These are the children I tell to smile. "With a smile, the world cannot hurt you. With a smile, you will win."
A smile can give a person confidence and reassurance that they can do anything. The smaller children are better off not attending schools in Guatemala, the teachers know almost nothing.

So, if the smaller children can be bought with smiles and taught with wisdom. But who can do it? Even liscensed teachers in the US force their opinion on students. I for one was always the student that told many of my teachers to "teach the material and not to preach their beliefs, churches are for that, and Heaven forbid the word 'God' be brought up in a public school."
I am less than impressed with child care in the US also. People who are hired to take care of other people's offspring are less than well dressed and would do some good being introduced to toothepaste, toothbrushes, shampoo, conditioner, and antibacterial soap. They cannot do this task either.

Malnutrition is also a problem but not a problem anyone can fix by giving them food. Beans and tortillas are a cultural confort of the country. Even I can recall many times, when a whole meal was prepared: chicken soup, salad, enchiladas, or rice; and I still ate beans and tortillas and that was it. It is a family food and comfort food. Even people there will choose the beans and tortillaa over other foods. Malnutrition cannot be fixed in the way of food.
Poverty may not be the cause of the malnutrition because they have food, a lot of it. In some places, mangos are free because there are so many trees. They have cahsew apples, cahsews, oranges, apples, avocados, rice beans, and much more. But they sell these crops to eachother and to travelers.

This is only to provoke thought and to shed some light on this issue. I have a plan to help but it will take millions of dollars more than likely, but it will open up job oppertunities for many people including families at a time. I am still on the planning stages, but I want this to happen even if I die, I wnat someone to have a heart and stand up for what is right.

Any thoughts and questions are welcome. Ideas, and thought may help me make the plan even bigger and more benificial to the people there.
Thanks.