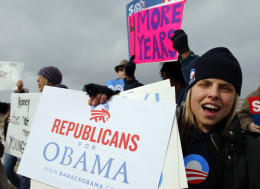 I KNOW exactly what YOU are talking about. However it should be under politics/social issues-U.S. Politics- U.S. Presidents. Many people fall for this person's charisma and believe that this person is a savior although the truth presented is otherwise. People view this person as a messiah and savior who exhibits promise and change although the situation has gotten much worse.

This situation has similarly occurred in Germany in 1933. In late Weimer Germany, inflation was out of control and there was a socioeconomic depression. The German mark was out of control and millions of people were out of work. Adolf Hitler and the National Socialist party seized on this opportunity. Hitler indicated to those who will listen that he will make Germany a better nation. People saw Adolf Hitler as a beacon of hope and voted for him. The people were happy that Adolf Hitler and the National Socialist party were elected.

However, Adolf Hitler had AN AGENDA. He made THIS AGENDA quite known. However, the German people find this agenda totally incredulous. So they ignored this agenda. As Adolf Hitler and the National Socialist were more entrenched in power, the darker side of the regime become obvious i.e. the anti-Semitism and the singling out of people who disagree with the regime. People who disagreed with the regime disappeared into concentration camps. There were establishment of spy networks in Nazi Germany. Under Hitler and National Socialism, Germany became a totalitarian state. However, many of the German people thought Adolf Hitler and the Nazis were fantastic; however, there were SMART German people who saw Adolf Hitler is quite dangerous and some did revolt against Hitler much to their peril. Sadly the German people did not see Hitler as a monster until Germany was nearly destroyed in 1945!

Many Americans see President Obama as the best thing since Wonderbread. However, President Obama has AN AGENDA for the United States. He intends to make the United States more socialistic. Since he was in office, the socioeconomic situation of the country has gotten worse. His main concern is to establish the fiasco called Obama"care". Many Americans are so in love with President Obama and his "policies" because he is considered to be a breath of fresh air and a new political face. They refuse to see President Obama for who HE is. Many of Obama's supporters contend that America is going into a better direction than it has in the past.