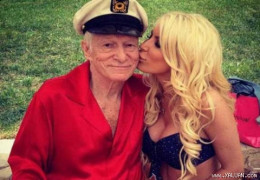 " Men that had nothing to offer did not approach professionals-they knew better."
By (nothing) I assume you mean money or financial means.
It's sort of ironic how many career women often claim men don't approach them because they're "intimidated by their success".
And now that some have come to realize that is not the case they're calling these men "gold diggers"! LOL!
Historically rich/successful men have married women who had "nothing" going for them aside from their looks. However instead of viewing their significant others or wives as "gold diggers" they viewed it as being apart of the trappings that come with success.
In fact many men subscribe to the belief that if they become "successful enough" they can have any woman they want!


Back when Hugh Hefner was age (86) he married former centerfold Crystal Harris who was (26) years old at the time.
Nevertheless times are changing. According to a recent study from Pew Research Center women earn more than men in almost a quarter of U.S. households. Women are now the leading or solo breadwinners in 40 percent of households, compared with just 11 percent in 1960.
Seventy-one percent of husbands are working in households where women make more money than their spouses, where they have a median family income of $80,000, according to 2011 data.
In 1960, only 4 percent of women made more than their husbands.
Clearly this data shows men are NOT intimidated by a woman's success and as you noted they are not ashamed of having less money than the women they date or marry. They're not intimidated.
Some women are fine with earning more money than their significant other while many women still hold onto to the tradition of expecting the man to be the main breadwinner even if they themselves are earning over six figures a year!
When a woman is financially independent where she doesn't "need a man" to live as she pleases she is free to chose a man based upon other qualities she desires in a mate.
Can you imagine how lonely Oprah, Madonna, Halle Berry, or Jennifer Lopez would be if they insisted every man they date or marry has to match their income or earn more than them?
Having said that I believe the top reason why men approach women still has to do with their appearance and physical attributes. Her income or success are "icing on the cake".
Still it's highly unlikely we're going to see any 26 year old guys rushing to marry an 86 year old woman no matter how rich and successful she is! One man's opinion!