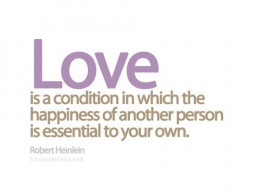 When truly in love, two become like one and so much blossoms, suddenly:
attitudes matter; actions matter; choices you make matter; being responsible matters; having fun matters; Pleasure matters. Real love brings two strangers together for the dance of a lifetime. It gives you the opportunity to co-create the lives you desire and leads to deep personal growth and fulfillment like nothing else.
Each half of the relationship takes great care to satisfy the other's needs and regards the other as his or her most valued prize; held in high esteem and with gratitude. There is a great sense of security and freedom in this form of love which comes over time. Statistically, lasting love has a greater chance in marriage than in cohabitation. Perhaps, it's for the single notion of commitment.
This love guides us to live in peace and with vitality. It teaches us to have courage to face and rise above the challenges life brings. It inspires us to a spirit of generosity and kindness. It leads us to live with dignity and honor. And it reminds us to be quick to forgive as this is the journey of love...