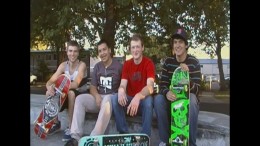 Once, I was in a really horrible mood. I went to the mall to pay a bill, and while there, bought a 6 pack of beer to cheer myself up. I was arguing with myself because I really needed to go to the gym, rather than drink and add calories. On my way out the door of the mall, some high school guys cheerfully opened the door for me. That instantly put me in a much better mood!
Why did they open the door for me - and everyone else who exited? Because they were skateboarders, and weren't supposed to be there! In Hawaii, you're allowed to skateboard only in a skate park. People have been arrested for doing otherwise.
However, no one has hired me to be a cop. So I said, "Thanks! Show me some stuff!" They were surprised, but showed me some kick flips and other tricks.
I wound up going to the gym, and had the best workout ever. I completely lost interest in the beer.
A little kindness goes a long way!