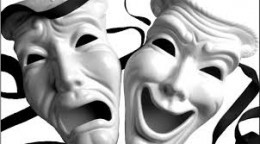 Not at all. However, it all depends upon how one is brought up. According to psychologists, it is mentally healthy to love oneself first. After all, if one isn't capable of loving himself/herself first, how can h/she love other people. Also, psychologists strongly assert that if one doesn't have a love of & a healthy sense of self, one can't effectively navigate himself/herself in society & don't have proper boundaries in regards to others. Psychologists also maintain that people who can't love themselves are more susceptible to abuse from others because they have a poor or no sense of self.

However, religions propound that it is selfish to love oneself first although spiritual masters stress the importance of loving oneself first. One of the great spiritual masters, Jesus Christ stressed that one should love one's neighbors as h/she loves himself/herself. He didn't indicate that one should put one's neighbors before himself/herself but one had better love/respect neighbors as he would himself/herself. But religions stress self-abnegation is the ideal state of being. They vehemently aver that people who love themselves first are somehow selfish & that it is spiritually right to ALWAYS love others before themselves. Religions, especially the Abrahamic religions, see the self as negative, even evil which is religions expound upon the principle of self-denial. The religious premise is that the more one puts/loves himself/herself last, the better & more spiritually righteous h/she is.

Then there is the family environment. In large/very large families, children are taught to put family members first & themselves last. In such families, having a sense of self & loving oneself first is a sign of selfishness & is strongly discouraged & disparaged. In large families, there is no such thing as individuality & self- it is family uber alles. Children in large/very large families who demonstrate a strong sense of self & love themselves first are ostracized & made to somehow diminish themselves. However, in small families, children are encourage to love themselves first. There is a very strong sense of individuality in the small family environment. It is quite normative in small families to be highly individual & to love oneself first.