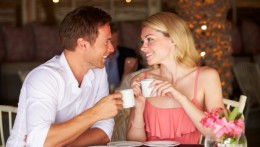 Dating is always in person.
The only difference between so called "online dating" and "offline dating" is how the two people met.
The "actual dating" always takes place in person.
As is said: "It's not where you meet but who you meet that counts."
Online dating has some pluses though especially for busy working professionals and middle age persons who have no interest in doing the nightclub rounds, attending parties, other social functions, or relying on friends/family for introductions.
A person can quietly be proactive searching for perspective dates in the privacy of their own home or have someone reach out to them. There are niche sites too which offers one a variety of options.
Whether you meet a stranger online or offline you should always use good commonsense and have your own "mate selection process" or traits you're looking for. Either way you have to take responsibility for saying "yes". You can't blame (how) you met.
Each of us gets to (choose) our own friends, lovers, and spouse.