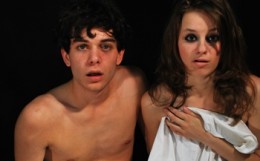 In the U.S. every state has it's own "age of consent" when it comes to having sex. If you live in Hawaii that age is 16 but if you live in California the age is 18 as one's location defines maturity. However when individuals choose to have sex they're not asking themselves if they are "old enough" to have sex. They just do it.
Teenage males usually can't wait to get rid of their virginity status.
Most female virgins have sex with those whom they have formed an "emotional attachment" with. In fact many teenagers think they have found their "soul-mates".
They see themselves as being "adults" on par with their parents.
There are also other people who have sex because they want to be liked/loved or they believe it will somehow cement a relationship.
Ideally one should be mature enough to know that sex is not love, know how to avoid contracting STDs, avoid unwanted pregnancy, and be in a position to handle the responsibility that might come as a result of having sex. However peer pressure, raging hormones, and emotions often overrule logic when it comes to sex.