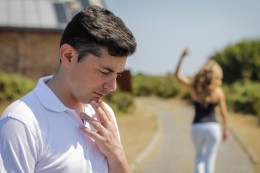 Ultimately it's because most people believe family (is) family.
There's a sense of obligation to love, accept, or at least tolerate one another because genetically you're "stuck" with one another.
Where as boyfriends/girlfriends/husbands/wives are "optional" relationships. Your mother/father/brother/sister are acts of fate.
Each of us gets to (choose) our own friends, lovers, and spouse.
The more "options" one has the less crap they will tolerate!
If your mate betrays you there isn't the pressure to "make nice" at a family reunion or holiday gathering unless you have children.
In many cases if people weren't related they wouldn't be friends!