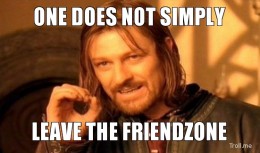 You said: " he did not talk to me because I am not very pretty but now we are friends and he loves my sense of humor...."
When someone puts you in the "friend zone" it's the same them saying: "You are not the one!"
Being someone to "hang out with" is long ways from being the object of their affection. Truth be told you can't "make someone fall in love." Even if it were possible to do so most people want to be loved for who they are because in the end that's who they're going to revert back to. You can't be someone else forever.
However if you're not careful you may end up being a down low "booty call" of which he'll deny ever having sex with you
"Never love anyone who treats you like you're ordinary."
- Oscar Wilde
If a guy thought you were (too ugly to talk to) at one time odds are you're never going to get out of his "friend zone".
Thankfully there are 7 Billion other people on this planet!
Odds are in everyone's favor that there is more than one person who would appreciate and fall in love with us for who (we) are.
Best wishes!