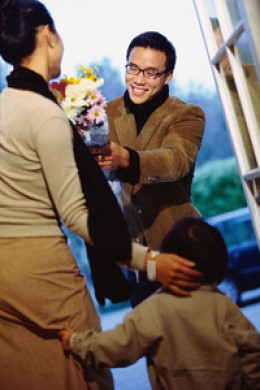 Yes, In the past I have had a few long-term relationships with women who had multiple kids as well as those whose children were adults living independently on their own.
The older a person becomes (30s, 40s, 50s and beyond) the odds are people in their age group are likely to have had children.
However if your goal is not to have children then it makes sense to only seriously date/marry someone whose children are grown and living on their own or if by some chance you meet someone who never had children. It's your life to live as (you) want.
Each of us gets to (choose) our own friends, lovers, and spouse.
Some people love parenting whether it's their own children or not.
There are also single organized parents with careers and stability.
Children by themselves do not have to be a "deal breaker".
Naturally there are factors which may determine the outcome of such relationships like how well behaved the children are along with their respect for their parents and adults (you) in general as well as how prominently the "ex" plays into the dynamic of the household. No one wants to deal with a whole lot of "drama".
One must accept the reality their mate's children are their top priority. There's times where you have to schedule around them.
However if something doesn't (feel right to you) it's probably not right for (you). Don't force yourself into something you don't want.
Know yourself, Love yourself, Trust yourself!