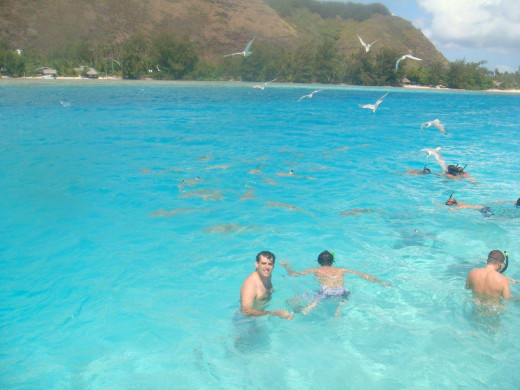 Here is an interesting development. Normally, it's difficult to convince some people that the human soul can be born into a new family after his/her death, in a new country, in a new continent, and in different (and better) economic conditions. In the East, this concept is easily accepted as any everyday reality. The current Dalai Lama has even published a public record of his future plannings for reincarnation.

Now, here is the thing that interests me: the deadly disease 'Ebola', which has once again come into prominence in Africa and is threatening global health, and its connection to reincarnation.



An imagined situation: Let's imagine that you are a Nikon employee who lives in Brazil. You have a wonderful job with a handsome salary. You're married to a fantastic person and you're about to have a child within the next few months. You are currently developing a revolutionary new 'sensor' for digital imaging, which would increase the power of normal digital compact-cameras up-to 350 megapixels - digital images would look as good as if we are watching them in reality.

Because the sensor would be made of a completely new alloy material - this upgrade wouldn't increase the price of this new generation of digital cameras. You are partnering with engineers at Dell and Apple, to engineer a new generation of computer monitors which would be able to display the images that are taken from these cameras.

If everything goes right, and if you can successfully patent your invention - then, you know that all the companies that manufacture digital imaging products, including Nikon itself, would have to license the technology from you. You would dominate this industry for a very long time to come, just as once Kodak did.


You take a vacation for a few days to release some of your excitement. You come to Hawaii. Around 8 pm at night, you leave the hotel and join an indigenous dance ceremony. You and others are sitting in a ring around the dancers. Nor far away from you, is sitting an "United Nations Health Committee" adviser, who had returned to Hawaii a few days after a short trip to South Africa, where Ebola virus has killed 7 people.

Two months later: You are diagnosed with Ebola. There is currently no vaccine or treatment that can neutralize this virus. Death is inevitable. Added to that, your existence has become a danger for public safety. You are being sent to a detention camp being guarded by people who are wearing a costume that resemble to spacesuits. You are given an injection that painlessly kills you.



Now, after this event, you (the soul that died with the body) would try to fulfill your incomplete mission. Because of the nature of your unfulfilled 'desire', you would try to take a birth that helps you take you to your previous life's goal as quickly as possible. As soon as a Nikon employee conceives, you are sent into that fetus-body, attached into its every cell and every neuron, by the command of 'something' from the spiritual dimension, the place where every soul migrates after their physical death, and where I (the writer), and you (the reader) would also once have to travel.

This is the nature of reincarnation. I had to share this because normally, when people talk about reincarnation, or try to describe it - they usually portray it superficially. But in reality, reincarnation is about people real feelings and emotions, their passions and aspirations and their unfulfilled dreams.