Recently, Disney Cruise Line revised their MDR dress code. They now allow shorts in the restaurants (well, except for Palo and Remy, the latter of which are onboard the Dream and Fantasy).

There are mixed reactions on the revisions. Some people showed consternation over it, fearing that the passengers have free rein to wear short shorts with writing on the backsides to dinner, sitting besides a man in dress shirt and khakis and a woman in a nice dress.

Some others welcomed it. For instance, little Johnny wants to wear shorts so he can go to the Oceaneer Lab, and as of recently, he can.

For me, I'm still wearing the traditional dresses and slacks. I have been doing this since I took my first cruise on the Carnival Tropicale at age 6 in fall 1995. But I don't really care about what people wear around me in the MDR's. I'll not mind this when I sail on the Dream in a few weeks though I still dress nicely for dinner (except on Pirate Night, when I wear my T-shirt and slacks rolled to just below knees).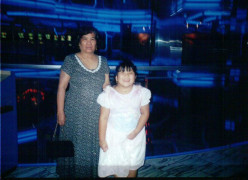 Me and my late grandmother in "cruise casual" clothing - nice dresses. Carnival Fantasy, Feb. 1996

I understand and acknowledge that people hate the dress code because of fears of everybody looking sloppy for dinner, but I also acknowledge those who are accepting of the code especially as long as the shorts are nice. I'm more into the quality of the food, services and amenities on any cruise than whether or not someone is wearing nice slacks to dinner.

If a cruise line follows DCL's lead in allowing shorts in the MDR's, how would you react? Would you welcome it, loathe it, or not care?