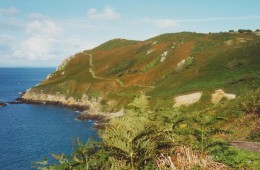 I've been to Jersey and Sark, I loved both but was only on Sark for a day - it's nice and peaceful without any cars on it and there are tiny hidden bays. I became a fan of Jersey through Gerald Durrell - he set up his zoo there for breeding endangered species, so I've enjoyed visiting that and spent a fortnight doing work experience there and also was a fan of Bergerac which was an extra draw. I like the difference between the North and South coasts of Jersey (the north is more rugged) and the interior of the island with its pink granite farmhouses and Jersey cattle.
I took the photo (if my memory serves me right) somewhere on the coastal path between Bonne Nuit Bay and Bouley Bay.
I would love to go back and also to visit some of the other islands in the group.