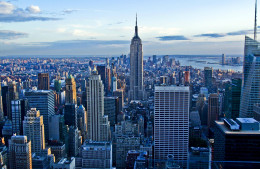 (1) Times Square & Broadway which is located from 50th Street to 42nd Street from Broadway to about 8th Avenue. This is the main tourist area. It has the usual tourist stores, restaurants, & one can get low-cost tickets to see Broadway plays. One can go to the piers on 42nd Street to take the Circle Line around New York City. There is also a Junior's Restaurant in the vicinity.

(2) The Financial District which is located in lower Manhattan. This area covers City Hall, Fulton Street( shopping center & restaurant-also there is a museum), there are shopping areas such as Century 21 where one can get quality clothing at a discount, & lastly, there is Wall Street & Battery Park City. While you are in Battery Park City, please stop by The Museum of the Jewish Heritage which is dedicated to the Jewish Holocaust. This museum also showcases the varied aspects of Jewish culture in Europe, the Americas, & worldwide.

(3) Chinatown, a wonderful place where one can sample authentic Chinese cuisine at its various restaurants. There are also stores where one can purchase Chinese clothing & get acupuncture. There are also art stores in the surrounding area.

(4) Harlem. This area is becoming gentrified. There are wonderful stores in which to shop. There is also the Apollo Theatre. There is Sylvia's Restaurant, the Schomburg Public Library, the Museum of Harlem where Black art is shown, & the Cotton Club where jazz & good food abound.

(5) Brooklyn, New York- What can I say about Brooklyn?! Brooklyn is so many things to so many people. There are various restaurants such as Nanatori in Brooklyn Heights, Juniors in Flatbush, Wasabi & Peter Luger's Steakhouse in Williamsburg. There are prime shopping centers in Brooklyn Heights, Flatbush, & particularly in Bay Ridge. Yes, there are tons of restaurants in Bay Ridge. There is also BAM on Atlantic Avenue in Brooklyn where one can take in a movie or see cultural events. One can get perfume oils in Brooklyn at a fraction of the price for regular perfumes (Madina located at the beginning of Atlantic Avenue). There is also Brighton Beach where one can get Russian movies & have Russian food either at its restaurants &/or stores.