Arkansas is not known as a snow location. Usually when we get the winter weather it ends up to be mostly an ice/freezing rain event.This year we got snow and lots of it.

The weatherman forecast 2-4 inches the most in spotted location, mainly in the mountainous areas. Well, they missed it!

I went outside to measure last night around 8 pm and we had 8 inches at that time and still snowing. This morning the Local Weather has updated State totals in this area to around 8-10 inches of snow.

I am going to show some pics here from Arkansas in this Thread. Hopefully others will show theirs as well.





Beside Front Porch Steps-the blooming pear trees and the middle bush is a Rose Barberry Shrub.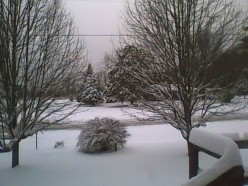 Front Yard through window-See my 7-sisters rose bush! It is 3 years old now. Looks better when it has growth on it. Makes for an awesome display when covered with all the small rose heads all over it.