sort by best latest
Hi peoplepower73,
Moving the capsule to the right is the first step. What you must do next is: click on the edit button. Once you are in editing mode take a look on the top left where it says: Capsule Subtitle, just beneath the capsule subtitle you will notice the words "Backround" with a choice of 3 colors being displayed. Choose any of those 3 colors and then save it.
I hope it helped :)
All you have to do is when you're in edit mode, hit the right arrow key "float right", and once your capsule is floated to the right, go into edit for that text and under "capsule subtitle", you'll see three background color options - white, grey, and blue. Pick the one that you want and you're all set! I hope this helps.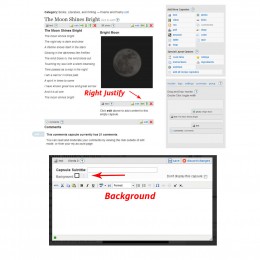 As the others said, after you are in edit mode for the hub, add the text capsule, click the right (green) arrow to right justify it, then in edit for that capsule, you select the color you wish.