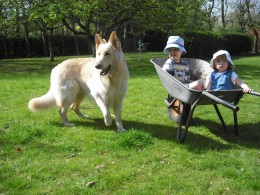 He looks like a white german shepherd to me, we have one & he looked just like this when we very first got him.
Please bare in mind that they can grow 'very big' -our dog, Basil, is huge now & weighs over 8 stone!
I'm struggling to find a picture of when he was so young, before his ears started pointing up to compare, but I have one of him now...
I hope this helps!