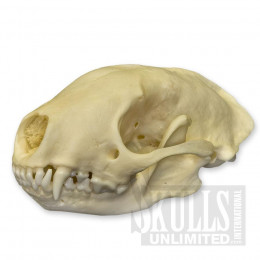 More Clues . . . More Clues! A quick peek says W.Va. (By the way I lived in Guyandotte and Huntington '66 - '69). A fun search seeking an answer. Too big for a mouse or rat. Too small for a cat (Round skull) or dog (elongated, different eyes, and canine teeth). That leaves the between varmints - opossum, racoon, and skunk.

Clues would be the canine teeth, the eyes, the nose, and the shape of skull. For opossum the canine teeth would be very near the front so maybe. But, the shape of the skull is rounded. This character has a somewhat ridge in the skull center so a no go.

What of the racoon? Quite possibly. A clue we cannot see easily is the canine teeth for those critters is quite large. So large that there is an oblong rise at that point extending further into the jaw. I don't see that. Therefore I rule this out.

The skunk? It does have an oblong skull. It's eyes are about right with placement, size, and shape. The nose for sure offers a clue. The canine teeth would be near where they are missing. The front teeth make sense too. Mostly likely a stripped skunk because the spotted skull is a little more oblong with less height.