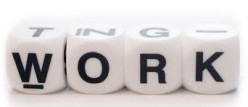 Many of us were taught that work was something to be endured or barely tolerated at best, an intensely purgatorial existence before retirement. Only a minute percentage of us were told that work should be a joy/vocation/a calling. As a result of this inculcation, many people view work as a plague and dread Monday mornings.

In addition to this less than positive inculcation regarding work, many were taught just to settle and NOT to reach for their goals/dreams because "in all likelihood, that's NEVER going to happen." Or they were told, that success ONLY OCCURS to the LUCKY and the VERY FEW. They believe that they are NOT in the equation as far as success goes.They feel that they are NOBODIES undeserving of success. Thus their work lives are just joyless monotonies.

Only a few people actually ENJOY and/or PASSIONATE about their jobs/careers. They actually anticipate Mondays and work while the majority of us view work as hellish or darkly purgatorial at best. How were YOU indoctrinated about the concept and premise of work?