So I had our designer whip up a little something for those of you who don't really feel like doing this HubChallenge after all of the pain and suffering that you went through during the last epic 100 Hubs in 30 Days that we did back in May: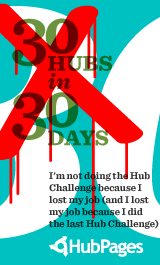 I thought that it was pretty funny (and of course Darkside came up with the tagline).



But, in all seriousness, I wanted to see which of the 30 Hubs in 30 Days HubChallenge graphics fits you the best (if any of them at all). Personally, I like this one A LOT: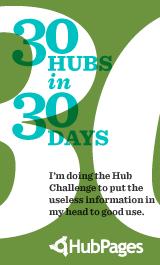 If you get a chance, head on over to Da' Rules Post here and choose the graphic that you like the best, post it in a reply to this post and tell us why you chose it. You can see how to post images over here on the Formatting Tips page.

Also, I'm going to have a few new versions of these graphics whipped up here soon, so if you can come up with a great tagline you'd like to see added to one of them let us have it and it might just make it onto a new one!