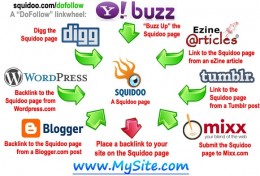 If you look at the image of a linking stategy, crosslinking would be to digg your buzz, tumble your mix submission, buzz your ezine article, mixx your digg bookmark.

Basically everything links everything else.

Though this can be a very powerful strategy it can just as easily backfire.

If you have accounts which have a common thread such as a account name, email or username, google may find that this cross linking behavior is the doing of one person and then penalize you for it.

If your going to adopt this technique its best to use it sparingly and use different details for each of your accounts.