I mentioned earlier in this thread that I never used to look at the stuff that popped up in the "Recommended" section on my pages.

...but of course, now that this thread (and others like them) have made me aware of this situation, I can't help but notice the kind of junk that's getting stapled to the side of my articles, because most of the time it's hilarious.

For example, right now I'm writing a review of the new Metal Church album, which isn't published yet, but these are the "recommended" articles currently showing on the unfinished hub: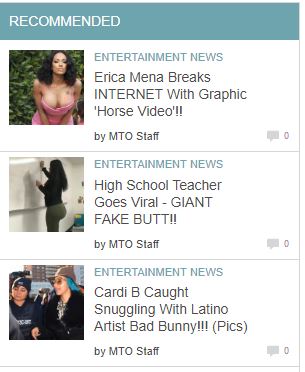 ...needless to say, I HAD to click on "Erica Mena Breaks Internet With Graphic Horse Video," cuz I was like "Good Lord, please don't tell me this chick is gonna be doing a horse," haha.

(Also, "Graphic Horse Video" would be a great name for a band.)

As it turns out, the title is typical click bait BS, cuz the article is benign gossip rag junk about some reality TV performer I've never heard of, from the show "Love and Hip Hop." Yeah, I'm sure all the Metal Church fans who will be reading my album review are HUGE hip-hop fans who LOVE that show so they're all gonna click this link. Pffft!

The site these articles come from, "MTO News," claims to be "The Most Visited African-American News Network." I'm not African-American but I think I can safely call BS on that claim, if this is an example of the poorly written crap they peddle.

I still refuse to get my undies in a bunch about this, cuz experience has shown that when my articles move to a niche site, the "recommended" box starts displaying stuff that is more relevant.

However, I will continue to mock the crap that shows up there in the meantime, until Maven/HP gets their you-know-what together and deals with the issue.