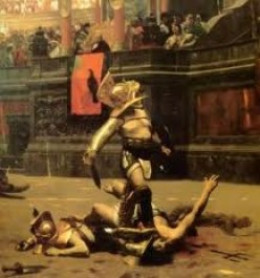 Sports are highly revered, especially in America and Australia. In such societies, sports are seen as the ultimate expression in masculinity. Man who are active in sports are viewed as true men, real men. Sports are also a further expression of America's and Australia's extroverted character. In American and Australian societies, extroversion is a trait that is highly praised, prized, and oftentimes rewarded.

In America especially, sports stars are deified. Even in high school and college, it is the jock, not the academician, who is glorified and are on top of the pecking order. Sports stars are our gladiators so to speak. Sports stars are viewed as masculinity times infnity. Sadly, intellectual endeavors and gifts are less prized, especially in America and Australian societies. Men and boys with such gifts are often viewed as nerds or worse.

There is a strong element of anti-intellectualism in America and Australian society. These societies prize aggressiveness, action, and being in one's face which is typical extroversion. Intellectualism which requires thought, analysis, and deep introspection are considered to be introverted characteristics and are deemed suspect in an extroverted. Furthermore, such characteristics are viewed as unmasculine.