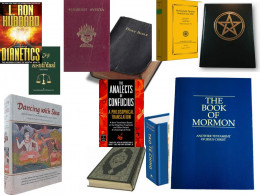 You make a good point.

If people took a logical, educated and scientific approach in analyzing world events and conditions all so called "religious or "sacred" books would be shown NOT to be authoritative points of reference of a realistic world view, except for only one,

the Bible.

What makes some people to not see that? They are blind. The Bible says they are blinded by Satan and the whole message of the Bible, which is the inspired Word of God, is to reveal the truth to the blind. It has been studied to death by logical, educated and scientific people and has proven to be more historically and archaeologically accurate than any other ancient book. It has been subjected to the minutest scientific textual analysis possible to humanity and has been proven to be authentic in every way. The Bible presents 101 scientific facts found in the Scriptures. Many of these facts were penned centuries before they were discovered. Scientific foreknowledge found only in the Bible offers one more piece to the collective proof that the Bible is truly the inspired Word of the Creator http://eternal-productions.org/101science.html

How Do We Know the Bible is True? Is it Really the Word of God?
http://www.whatchristianswanttoknow.com … rd-of-god/

And if we consider the biblical worldview, we find that we can make sense of the laws of logic.But if we don't accept the Bible as true, we are left without a foundation for laws of logic. After all, none of us have universal knowledge. We have not experienced the future nor have we travelled to distant regions of the universe. Yet we assume that laws of logic will work in the future as they have in the past and that they work in the distant cosmos as they work here.The question is: can we know that they will work in the future or in regions of space that we have never visited? Only the Christian worldview makes sense of the universal, exception-less, unchanging nature of laws of logic. Apart from the truth revealed in the Bible, we would have no reason to assume that laws of logic apply everywhere at all times, yet we all do assume this. Only the Christian has a good reason to presume the continued reliability of logic.The non-Christian does not have such a reason in his own professed worldview, and so he is being irrational: believing something without a good reason. The unbeliever has only "blind faith" but the Christian's faith in the Bible makes knowledge possible.