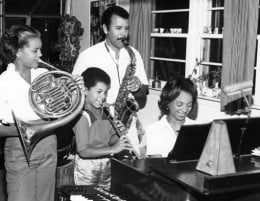 Highly educated parents are better able to provide an early education of the child in the home. After all, parents are the children's primary teachers. Such parents, on the basis of their extensive education, can effectively interact with their child/children. Studies have shown that children of highly educated parents have a more extensive & more advanced vocabulary.

Highly educated are more likely to provide their children w/access to early childhood education which is very important for the intellectual development of their children. They know how to utilize the crucial developmental years of the child which is from 0-5 years of age. As a result of their emphasis on early childhood education both in the home & during pre-school, their children have the head advantage when they start school.

In addition to that, highly educated parents are more likely to provide their children with intellectual paraphernalia such as books, educational videos, & other educational materials. They realize that education does not begin & end in the classroom but is ever continuing. They also believe in education as a viable & positive lifestyle for their children.

Highly educated parents, by their example, demonstrate to their children the importance of an education. They live a rewarding lifestyle & have more life options & their children see these things. Their children are learning by their parents' example hence see the value in education.