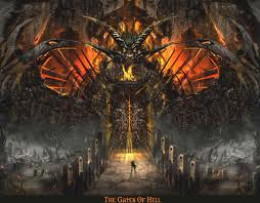 (1) Having a somewhat precarious socioeconomic lifestyle.
(2) Working at a job just for the security & benefits, longing for the three factors of escape: breaks, lunchtime, & subsequently retirement.
(3) Being the oldest/older child of a large/very large family (need I say MORE). You oldest/older children of large/very large families KNOW EXACTLY what I am talking about(no need to go into details here).
(4) Being what someone else has ordained you to be instead of being yourself.
(5) Living a fearful life, never attempting to experience an even somewhat joyful life.
(6) Choosing comfort & security over risk, development, growth & ultimate evolvement as a human being.
(7) Pleasing others at the detriment of pleasing oneself.
(8) Dating & entering into a relationship w/someone you really don't feel comfortable with.
(9) Being in a VERY long line at Target on a Friday night (anytime).
(10) Going to a good department store & finding the clothing to be totally subpar.
(11) Being in a family with whom you have ABSOLUTELY NOTHING in common yet having to make nice w/them at family gatherings.
(12) Entering into a career/profession at a parent's behest.
(13) Entering Colonial Park Post Office to pick up a package.
(14) Going to a high school reunion, knowing that your appearance has declined significantly over the years, hmmmmm.......
(15) Seeing that a classmate who came from poor background has become a phenomenal success while you simply.......HAVEN'T, oopsie.
(16) You have to move to a more downscale neighborhood.
(17) You, as a disfavored child, just don't seem to have any luck......oh well.
(18) When your apartment lights go out at night....
(19) Hunts Point, Bronx at anytime of the day &/or night.
(20) Any date w/Gabourey Sidibe.
(21) Bernie Sanders for president.
(22) The average blind date.
(23) Having to get out in frigid weather.
(24) Having to undergo dental implants.
(25) Having to undergo a root canal.
(26) Being placed in a nursing home, having to depend on someone for even the most minute thing.
(27) Going on a tourist destination which is considered to be third class.
(28) Being born to a dysfunctional family.
(29) Working in a serving or clerical capacity in any agency, company, or corporation.
(30)Growing up in a very crowded environment where there is NO privacy & always having to live out in the open.
(31) Going from upper middle class to lower middle, even working class.
(32) Striving & really not being as successful as one likes.