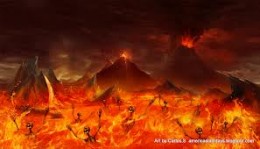 It's pure denial of course. It's further rationalization of a negative environment. Many in large families refuse to accept logical, conclusive, logical, & substantive analysis of their familial situation. They even acknowledge the negative, harsh circumstances growing up. However, instead of realizing that their family situation was wrong on its premise, they will staunchly proclaim how their harsh, difficult familial situation made them "better", even "superior" persons.

Even though they grew up severely impoverished, had poor food, went to bed hungry, had no medical care, had to parent & raise themselves/each other, & lived in the most abject, even primitive of conditions, they will explain such situations away. They simply refuse to see anything wrong in their particular circumstances. This is akin to a dope addict explaining, even seeing the positive in using drugs.

There is an inverse logic in the large family environment where good is evil & evil is good. In large families, poverty, struggle, & doing without, even the basics are viewed as normative, even beneficial. Those in large families think that it is quite normal, even positive for them to have inferior quality food, wear cast off clothing, constantly having to do without even the basic necessities, & experiencing neglect. To them, these negative things are well ...........okay. A very stark lack of socioeconomic struggle is so basic to those in large families that they refuse to see the aberrant dysfunction, even pathology of such a lifestyle. What they refuse to see & consider to be positive, others more astute see the large family situation as very negative to the point of detrimental as obvious when one observes & studies the behavior of children in large families such as delinquency, low academic achievement, low educational attainment, & other negative behaviors.