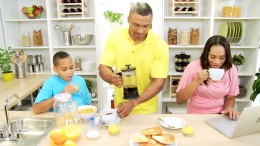 It will probably remain much as it is today.
Same sex, Interracial, Multi-cultural, May/December couples will marry and raise kids. Parents with adult kids will get high together.
The vast majority of families will made up of heterosexual couples who elected to have children. Some will consist of one parent staying home while others will have both parents working and paying childcare or having "latch-key" children.
In some instances men will earn more money than their wives and in others wives will be the primary breadwinner. Some women will opt to have children out of wedlock.
Divorce rates will continue to be about where they are as more women will continue to have better career opportunities and earn more money. Expectations of husbands roles will rise.
It's been reported in the U.S. that (women) initiate 66% or 2/3rds of all divorce filings.
The more options one has the less crap they will put up with!
Parenting from one generation to the next will continue to be more lax. Adult children won't be "forced" to leave the nest and stigmas will continue to fall. Women will date and spend the night with men who live with their parents.
We may even see a return of two generations residing in the same household in some cases. Adult children will feel entitled.
More seniors will be placed into nursing homes instead of adult children taking care of them. The "nest" will be passed down.