One of my absolute favorite TV characters is Rider, from Fate/Zero.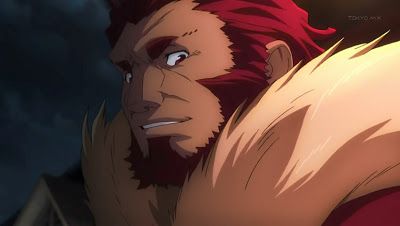 The Fate series consistently centers on an event called the Holy Grail War, in which seven mages summon heroic spirits from myth and history to fight alongside them in a battle royale to win the Holy Grail. Fate/Zero takes place during the 4th such war, and Rider is the heroic spirit of Alexander/Iskander the Great.

He is everything that's awesome.

Rider is loud, boisterous, overconfident, and avaricious to an absolute fault, but that's also part of his charm. According to him, his philosophy is: "To defeat, but not to destroy! To subjugate, but not to humiliate! That is the true path of conquest!" He is commonly referred to as the King of Conquerors, and as such his goal in the Holy Grail War is to attain true physical incarnation--to remain in the world after the war is over, so that he can begin his quest for world domination once again.

But, as demonstrated with his ultimate attack (the Ionian Hetairoi, an alternate reality in which dwells his infinite army), those he conquers serve at his side as his equals. Sure, he is a very greedy person, but hey. He was a king, after all. And to him, greed is a major part of being a king:



I should also mention that the bond he forms with Waver, his initially petulant and cowardly master, is one of the greatest buddy relationships I've seen in a TV show. Right to the very end, they fight side-by-side, and Rider never fails to impress with his bravado.

And that's why he's one of my favorite TV characters.