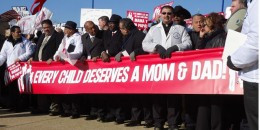 Gay Marriage: Even Liberals Know It's Bad
Why not legalize same-sex marriage? Who could it possibly hurt? Children and the rest of society. That's the conclusion of David Blankenhorn, who is anything but an anti-gay "bigot." He is a life-long, pro-gay, liberal democrat who disagrees with the Bible's prohibitions against homosexual behavior. Despite this, Blankenhorn makes a powerful case against Same-Sex marriage in his book, The Future of Marriage.

He writes, "Across history and cultures . . . marriage's single most fundamental idea is that every child needs a mother and a father. Changing marriage to accommodate same-sex couples would nullify this principle in culture and in law."

How so?

The law is a great teacher, and same sex marriage will teach future generations that marriage is not about children but about coupling. When marriage becomes nothing more than coupling, fewer people will get married to have children.

So what?

People will still have children, of course, but many more of them out-of wedlock. That's a disaster for everyone. Children will be hurt because illegitimate parents (there are no illegitimate children) often never form a family, and those that "shack up" break up at a rate two to three times that of married parents. Society will be hurt because illegitimacy starts a chain of negative effects that fall like dominoes—illegitimacy leads to poverty, crime, and higher welfare costs which lead to bigger government, higher taxes, and a slower economy.

Are these just the hysterical cries of an alarmist? No. ... Norway, for example, has had de-facto same-sex marriage since the early nineties. In Nordland, the most liberal county of Norway, ... out-of-wedlock births have soared—more than 80 percent of women giving birth for the first time, and nearly 70 percent of all children, are born out of wedlock! ... (read whole article at
http://townhall.com/columnists/franktur … _bad/print )
...Blankenhorn is amazed how indifferent homosexual activists are about the negative effects of same-sex marriage on children. Many of them, he documents, say that marriage isn't about children.

That conclusion has nothing to do with bigotry and everything to do with what's best for children and society. Just ask pro-gay, liberal democrat David Blankenhorn.