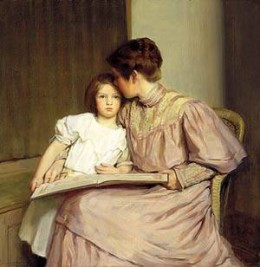 Motherhood is.....
(1) Having children only when one is emotionally, financially, & psychologically prepared to do so. When mothers are emotionally, financially, & psychologically prepared, mothers are less stressed therefore, they can be free to devote their time to their children wo undue stress.
(2) Having children only when one is at least socioeconomically solidly middle class & above. Mothers are less stressed when they are socioeconomically affluent. Also they can provide their children w/myriad educational & socioeconomic opportunities which lower middle, working, lower income mothers can't provide. Simply put, solidly middle, upper middle class, & upper class mothers can provide & invest in their children's futures.
(3) Not having MORE children than one can afford to take care of. Smart, intelligent, & loving mothers have the amount of children that they can provide for emotionally & financially w/o enlisting the aid of older children in the family. A true mother has the amount of children that she can give individualized love & attention to.
(4) Loving all children equally, never playing favorites w/any child. Favoritism oftentimes causes irreparable & irrevocable damage to children in the family, especially the disfavored child.
(5) Never comparing one child to another child. This behavior also causes irreparable damage to children.
(6) Valuing children for their uniqueness-never consigning them to be homogenous.
(7) Encouraging & valuing their unique talents, never disparaging their talents & telling them that their aspirations & goals are unrealistic & unattainable.
(8) Encouraging questioning, independence & thinking outside of the box instead of emphasizing blind conformity.
(9) Valuing & loving your oldest children & not babying your youngest children.
(10) Don't be threatened if your children choose a vastly different lifestyle & belief than you. Children have the right to live their own lives.