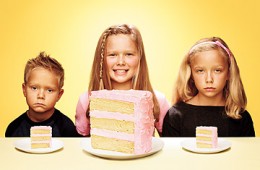 There is a lot missing from this scenario.
Is it something he would pay for one child but not this one? If so, why? Does he play "favorites" with the children?
Some parents only believe in paying for the basics (shelter, food, clothing..etc) They're NOT going to buy the latest and greatest toys, fashions, and gadgets just to make a child (feel) good in his/her peer group. Spoiling children is optional.
Having said that if you really believe the child "needs something" it's your duty as their parent to make sure he/she has it. You don't need "permission" to provide for your kids.