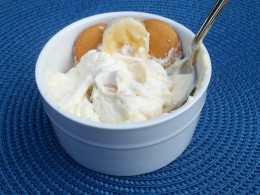 To make a really good banana pudding you will need.

1. Nabisco Vanilla Wafers
2. Instant Vanilla Pudding Mix
3. Ripe Bananas
4. Cool Whip Topping

Layer a 13"X9" baking pan with vanilla wafers and then a layer of thin sliced bananas. Make your instant vanilla pudding mix and pour the vanilla pudding into the dish on top of the wafers and bananas and press it down with a big spoon.

Once your whipped topping is thawed put a layer of the whip topping on top of the pudding and crush a handful of the vanilla wafers fine and sprinkle them on top of the whip topping.

You just made an excellent banana pudding.