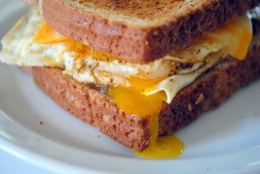 People forget how good and important breakfast is. One great breakfast meal you can make and serve is a fried bacon, egg, and cheese sandwich. Fry the eggs you will need for your sandwiches and cook your bacon in the oven.

Put your sandwiches together with the egg, bacon and a slice of cheese and fry your sandwich on both sides in butter over medium heat until the sandwich is toasted brown on both sides. You'll have a sandwich that will be oh so delicious and it will give you a lot of energy to start the day.

You can fry the egg for your sandwiches or you can scramble them. Either way they will be delicious.