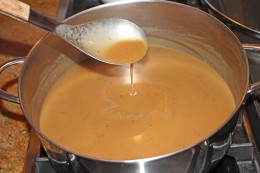 The Secret Of World Class Gravy

One of the problems with gravy is the temptation of the cook to use too much flour to make the gravy with.

You only want to use enough flour to make your gravy and you want a good quality heavy duty wire whisk when you want to make your gravy.

You need to keep in mind that gravy will thicken as it cools and if it gets to thick you won't be able to use it.

There are many varieties of gravy and you need to follow recipes for gravy carefully so you won't ruin your gravy. You can use packages of gravy mix and if you follow the directions carefully you should end up with some really great gravy.

I grew up on country sausage gravy served over homemade biscuits and I still have it that way often.

There are even recipes for chocolate gravy which is served over delicious homemade biscuits.

What is your favorite gravy.

I use a lot of packaged mixes to make gravy with and I usually end up with some of the best gravy you will ever taste.