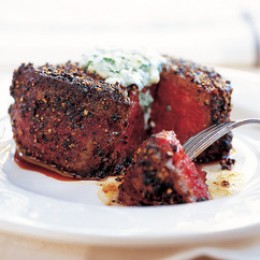 Sauteing is a great way to prepare a meal on your stove. All you need to do some sauteing is a skillet, oil, and some tongs. When you saute you build delicious flavors in soups, stews, and other dishes.

The rare tenderloin steak in the photo was sauteed in a little truffle oil and it turned out so delicious.

You can saute a lot of things and end up with some of the most delicious food you will ever eat.

You can make some very delicious sauteed mushrooms by slicing button mushrooms thin and you will want to saute the mushrooms in just a little oil and add to the pan a little minced fresh garlic, some fine chopped onion, and a teaspoon of Sherry ( Real Sherry Not Cooking Sherry ) Put the sauteed mushrooms over grilled or sauteed steaks and I bet you will love them.

You can cut vegetables like peppers, onions, and mushrooms up into small thin strips and cook them in a little oil in a skillet with minced fresh garlic, salt and pepper and a little high quality sherry and you will have some of the most delicious sauteed vegetables you will ever eat. They are oh so good prepared this way. Serve them with a sauteed steak and some toasted garlic bread for a delicious tasty treat.

John I hope there are some sauteing secrets that you will try and enjoy. I hope everyone gets to try the sauteed vegetables very soon.