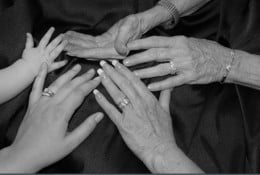 Every day actually.

I pray everyday that as Humans we will get back to being kind and caring again...Not to say many aren't, but I am just thinking the electronic age has pulled people apart, yet brought many together also...I know I sound Old...well I am, but Young at heart and I like the new fast way we can communicate.

Families have moved away from each other, land wise or even country wise, so the human touch and feelings become less personal. We have become more selfish and of course 'Money' rules...too bad bartering isn't back.

Not just MY future but the future of my children, grand children and great grandchildren...The circle of life is just that...and always changing...

) Hugs G-Ma