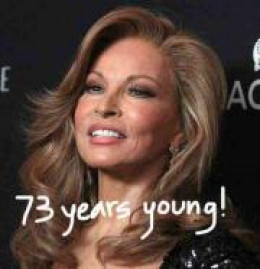 I believe more people are health conscious and the "baby boomers" in particular were the first generation to not silently accept or welcome the aging process. In fact AARP membership is down.
When I was growing up there were no mega gyms, major pushes on organic foods, low carb, low fat diets, workout DVDs, juicers, and tons of joggers and walkers. Anyone age 50 or older looked like they were ready to retire! Many of them had started wearing false teeth and were always tired. There was no "bucket list" for them to pursue.
Today you walk into any gym and you'll see some older person jogging on the treadmill at a good pace, riding a stationary bike, and doing whatever it takes to keep their body toned.
If you throw in a little plastic surgery they maintain their "hotness" beyond age 60. Ultimately I think the biggest difference today is people in their 40s, 50s, 60s, and beyond don't feel obligated to stop living the same lifestyle they did when they were younger!
Even "baby boomer" entertainers are still doing their thing. All of "The Rolling Stones" are in their 70s and they just announced a nation tour, Paul McCarthy is still playing stadiums, Prince and Madonna still pack theatres, and before Michael Jackson died at age 50 he sold out 50 shows in London. No one is to "slow down" these days.