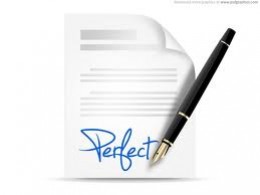 You know you are a good writer when writing comes to you effortless. You see writing as pleasure instead of work. You are able to evoke feelings and emotions from people based upon the written word, just as effectively as if you were talking to them in person.

Early on I enjoyed writing and at one time wanted to become a freelance writer instead of working at a regular job. However, due to the sometimes low earnings potential of a writer, I had to opt for a different profession.

When you are a good writer, you will receive compliments on your writing, sometimes when you least expect it. Once I wrote what I thought was regular type correspondence explaining why I was leaving a company. The secretary came to me and actually complimented me on my letter!

That being said, there are writers of different calibers. Some may write at an academic level, while others write just like the "man off the street." A good writer can adapt his writing style to fit his or her reading audience. He or she understands that all the expert writing in the world means nothing if the reader does not grasp the meaning.

A good writer also knows that the written word sometimes is not enough to get his or her point across. Talented writers are able to augment their writings with illustrations, pictures or other media to help the reader to dissect and understand the message.

After all, the written word is just that -- a written word. Without the skill to craft the written word into thoughts that can be translated and understood by the reader, a writer is unable to classify himself as a good writer in any context or sense of the term.