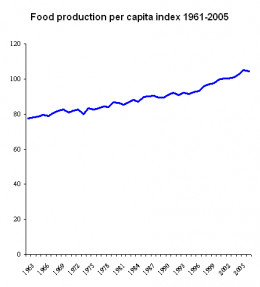 I have attached a graph of world food production from 1963 -2005. Over this period the world population increased from 2.5 billion by 4 billion people to become 6.5 billion. The food production graph shows that the amount of food has not only increased, but that it increased at a rate faster than even the staggering population growth over the same amount of time.

On paper, we have more food per person available today than we did then and yet we have people still starving. This is because we do not distribute food evenly. Some people get more than others. Farmers also want to get top dollar for produce. Infrastructure in some places ,is not available to distribute food before it is spoilt. Local 'authorities' in some regions are sometimes a bottle neck to equitable distribution. Another factor has been the price of energy and the impact of food being used to replace oil. With food production used to fuel cars and buses, less is available for human consumption. The rich reduce greenhouse gas contribution and the poor starve as a consequence. (A suggestion might be to move the production of fuel into factory vats or onto land not previously used for food production.)

You are right that a minority benefit at the expense of the majority, I do not think that will be changing any time soon, even if you remove all of the 'bible thumpers' today. Some other areas to work on might be, the challenge of the population growth itself. Raising average age of the population, eliminating corruption, peaceful transitions of government, education for girls as well as boys, health, housing, jobs. Most of these issues have actually improved over the time period above and continue to improve. Occasionally a few backward steps take place, these have huge ramifications for the people involved and then it is very easy to focus on the negative and it seems like a hopeless situation. Take heart Rhonda, the situation is not hopeless and is improving. It might even be, that someone born in a developed economy today, will be alive to see this bright and shiny future.