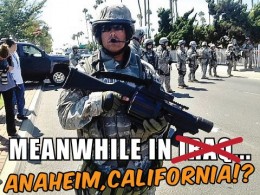 Not much has changed since the 1979 NCJRS report:

There is no greater issue that serves to precipitate a breakdown into civil war than the police use of deadly and excessive force. Unwarranted use of deadly force serves to perpetuate the schism between police and community; it generates fear, hostility, a climate of suspicion, indifference, and noncooperation.

Police lawlessness is widespread and stimulates the development of disrespect for legal institutions. This disrespect has too often been earned by the conduct of law enforcement agencies. Summary executions by paramilitary police units foster mentalities that place their conduct above and outside the law. Police departments should be purged of officers who misuse their discretionary authority to cloak the racism, psychopathology, and brutality which inculpates many officers.

The police must be liable for criminal prosecution as a result of their acts, like any ordinary citizen. The present mitigating circumstances rules used to exculpate police officers from responsibility such as prosecutors who refuse to prosecute might be the beginnings of a totalitarian system. Nothing differentiates more from the democratic policeman & his totalitarian colleague as attitude towards use of force. In a totalitarian regime, force is frequently unbridled & often glorified.

Real security within the society will only come when citizens voluntarily accept and support the law. Reliance upon the threat of violence will not provide security and stability with the indiscriminate use of deadly force. The threat of force will not lessen the conflict, it will only intensify it.

The killing of a citizen by police under questionable circumstances, increases the danger to the police. Loss of trust and a withdrawal of cooperation provides a potentially violent vacuum in which angry and frustrated citizens can target the police for all of their grievances simply because the police are the most visible and symbolic representatives of the government.