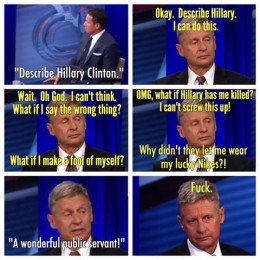 Like who cares?

During the last week of September, 2012, three sponsors withdrew their sponsorship of the 2012 debates for not including third parties: BBH New York, YWCA USA and Philips Electronics.

Multiple lawsuits have been filed by third-party candidates challenging the CPD's policy of requiring a candidate to have 15% support in national polls to be included in Presidential debates. While the lawsuits have challenged the requirement on a number of grounds, including claims that it violates FEC rules and that it violates anti-trust laws, none of the lawsuits has been successful, all dismissed so how is it they will lose their tax exempt status?

The libertarian party is grasping at straws to get publicity in hope to change the 15% threshold they know they will never reach. What they should be doing is running a real candidate with public recognition who can have a chance of winning instead of candidates the Republican voters have already rejected.