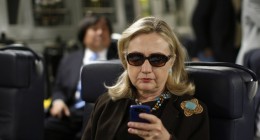 John
The liberal don't have answers for this question. They didn't want anyone to know the real Hillary Clinton. Actually, the FBI should have indicted her for obstruction of justice by deleting the emails when she was under subpoena. Then using bleachbit to destroy the data from the server.

That is the quality of the democrats and then they go all righteous because it all came out in public. Then they want to put Trump's cabinet selections through the ETHICS gauntlet, when the DNC and Hillary don't have any ethics.

Actually, it is not clear why president Obama wasn't impeached for also lying to the people as did Hillary?

He is her boss and he knew she had the private unprotected email server, so why isn't he under investigation, or indictment.