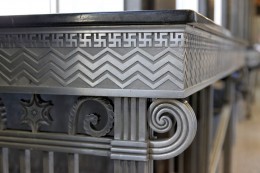 Too bad you don't have a link to a larger image that is in focus.The swastika is an extremely powerful symbol.

The Reno, Nevada Post Office features both left and right facing swastikas, along with other designs typical of "Zig Zag Moderne" style, later known as a variation of "Art Deco".

People have to realize the Nazis appropriated an ancient symbol. If you live in Germany then unable to sell or display since it is illegal.

Please upload a large image in focus and put in comment so we all can see what it really it. Thanks.