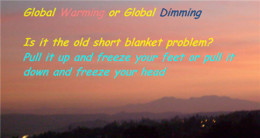 Ralph

This is another instance of trying to TAX, yet another thing. This time it is a TAX on the US as well as causing us to stop generating energy, and then buy it from the polluters that the Paris Accord subsidizes.

CO2 is part of our air. It is one step short of a TAX on our breathing to consider CO2 as the problem.

I always try to relate these Draconian measures to the ineptness of man. When did man or humans do something good by tampering with nature. After 1000s of years and modern technology they only have a crude understanding of weather and climate. This is evident in their weather predictions. While for the most part they it the bulk of the normal weather OK, but when the conditions are complex they only make an educated guess.

Compare it to curing major diseases. The last major disease that was actually cured was Polio in the 1950s. Not surprising before the FDA got control. And even today, Polio is still a major disease somewhere around the world.

The point is that we don't really know the real causes of cancer or heart disease. Look at the track record for the medical community in the basic food groups, and the avoidance of whole eggs. Statin drugs have not been proven to treat or be the cause of heart attacks.

In this instance, CO2 and Disease are not well understood by the scientists, yet they keep making desperate changes to our daily lives, and fail.

This is what I suspect is the case with CO2. There are many other variables in the world like Methane, Chem Trails, destructive wars, traffic congestion. So it would be difficult to isolate the real culprit.

We are also deluged by one scientific study after another in the medical field. They do limited case studies on people and then claim they understood the problem. Do they really? Look back over time and just look at the food pyramid.

They failed, and continue to fail. Yet, when money and taxes are involved they allow Smoking to continue with each new generation.

They also use Polling to determine that 97% of the scientists in the world Agree that Climate Change is Real. How many of them were actually polled, and what questions were they asked, and by whom?

Climate Change has been real since before man, we have volcanoes spewing stuff in the air causing Dimming not Warming.

As for CO2, leave it alone and let nature right itself. And reducing CO2, even if it was the problem, IT wouldn't reverse anything, would it?