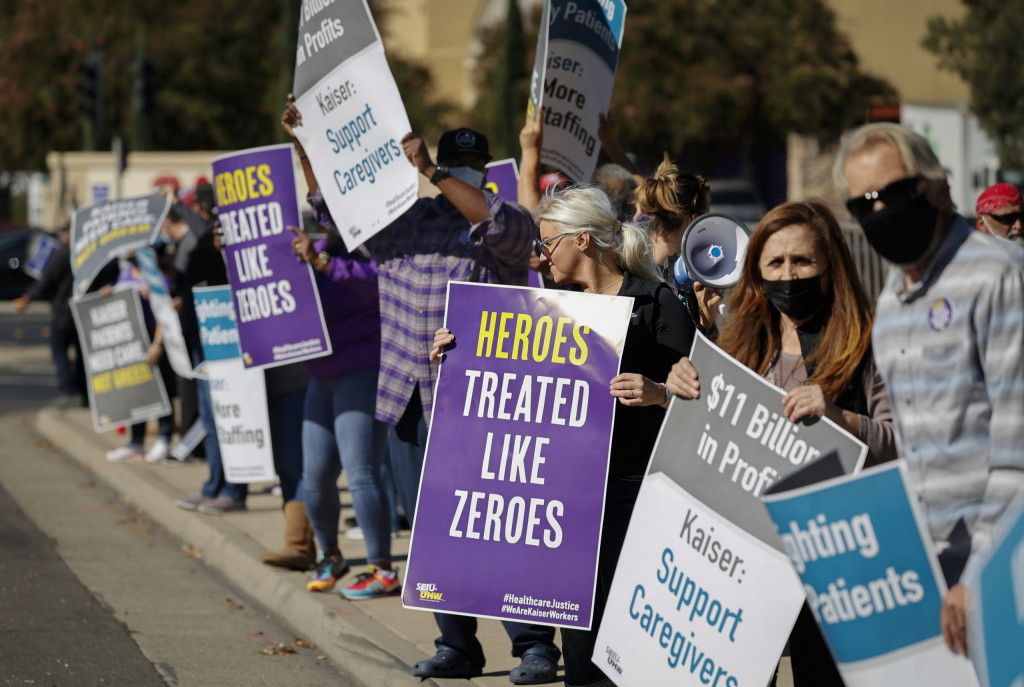 California went from mandating vaccines to forcing COVID-positive health care employees to work. The guidance is facing pushback, but one health expert says the move isn't unprecedented.

With the highly contagious omicron variant sending more people to California hospitals, the California Department of Public Health issued new guidelines Saturday, in an effort to make sure there is enough staff to handle the increase.

According to new state guidelines, health care workers who test positive for COVID-19 will no longer have to isolate or test negative and can return to work immediately If they are asymptomatic.

Medical Staffing issues have plagued hospitals across the country as the omicron variant of the virus spikes, including in California where vaccine mandates were put into effect last year requiring health workers to get vaccinated or face termination. Health giant Kaiser Permanente suspended more than 2,000 unvaccinated employees in October and said those who still have not been vaccinated.

"The department is providing temporary flexibility to help hospitals and emergency services providers respond to an unprecedented surge and staffing shortages. Hospitals have to exhaust all other options before resorting to this temporary tool. Facilities and providers using this tool should have asymptomatic COVID-19 positive workers interact only with COVID-19 positive patients to the extent possible," the health department said in a statement.

The announcement sparked outrage from the SEIU, as well as other health officials and workers in the state.

"Healthcare workers and patients need the protection of clear rules guided by strong science. Allowing employers to bring back workers who may still be infectious is one of the worst ideas I have heard during this pandemic, and that's really saying something," Bob Schoonover, President of SEIU California and Executive Director of SEIU California, said

The president of the California Nurses Association, Sandy Reding, said the health department's move will put patients at risk. "We are very concerned," she said, according to NBC Bay Area. "If you have health care workers who are COVID positive care for vulnerable populations, we can spread the COVID virus inside the hospital as well."

"If we are going to set up for the surge, let's set up protocols to have transmission reduced. This means not having COVID positive people come to work," Reding added. Source https://www.foxnews.com/us/california-h … e-working.

And to make all worse, there is this --- https://www.npr.org/sections/health-sho … ign-nurses --- "Short-staffed and COVID-battered, U.S. hospitals are hiring more foreign nurses
January 6, 2022"

""Temporary Isolation, Quarantine and Return to Work Criteria for HCP
Due to the critical staffing shortages currently being experienced across the health care continuum because of the rise in the Omicron variant, effective January 8, 2022 through February 1, 2022, CDPH is temporarily adjusting the return-to-work criteria. During this time, this guidance will supersede the tables below.

During this time, HCPs who have tested positive for SARS-CoV-2 and are asymptomatic may return to work immediately without isolation and without testing, and HCPs who have been exposed and are asymptomatic may return to work immediately without quarantine and without testing. These HCPs must wear an N95 respirator for source control. Facilities implementing this change must have made every attempt to bring in additional registry or contract staff and must have considered modifications to non-essential procedures.

These HCPs should preferably be assigned to work with COVID-19 positive patients. However, this may not always be possible in settings such as the emergency department in which you may not know which patients are COVID-19 positive or in areas where you may be experiencing extreme staffing shortages."
Spurce https://www.cdph.ca.gov/Programs/CHCQ/L … 21-08.aspx

Is it just me? Or Is this all just one big ass mess?

Does it very well appear this decision to ask medical staff work that are positive for COVID asymptomatic, yet still able to spread COVID?

It seems that the decisions California has been making are demands. First, they demand healthcare workers be vaccinated. Then, at this point, they hope they now will work even if positive for COVID. Maybe American's object to being forced to take vaccines, and will most likely not appreciate guidelines to work when testing positive for COVID. Being an RN I can share this sentiment--- Healthcare workers save lives, not endanger lives. We are funny that way --- LOL

It would appear some states have made the mistake of trying to use force instead of respecting citizens' rights.

Any thoughts?