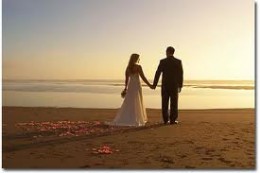 It depends on afew factors,like how important is it to wedding party?

Your wedding really is just for you and your intended,if you can grasp that,you imagination is your only limitation.

Go do something exotic,unique most tropical locations,destination offer free weddings,so check out some of the fabulous resorts at fabulous locations.

Make sure you check the sights for weddings availibilty and what they offer.

You can always return home and have a wonderful reception to share your nuptials with the fam,co-workers and friends.

I'm partial to sunset beach locations,small and intimate.

Grab your matron of honor,let him grab his bestman. If it's a couple makes for a wonderful intimate experience for all!!!