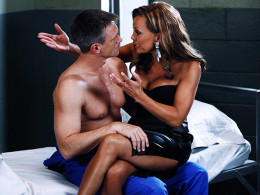 Many men do find Black women highly desirable and attractive. Many Caucasian and Asian men see Black women as exotic. They are different from the women they have grown up around and/or usually interface with. Many Caucasian and/or Asian men see Black women as sensuous and exotic because of her diametric physical difference.

Many Caucasian and/or Asian men are ATTRACTED to Black women because they are the opposite end of the spectrum physically. This applies especially to darker Black women. There are many Caucasian and/or Asian men to whom Black women represent the forbidden fruit.

Such men were strongly inculcated by parents and society regarding the "otherness" of Blacks, particularly Black women. Since they were told that Blacks were "the other" therefore taboo and forbidden, they were instinctively drawn to Black women, wanting to go to "the other side" so to speak. They want to experience what they were told NOT to experience.